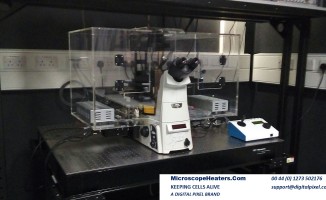 ---
Nikon Ti 2 Crest - Cambridge
TIRF Crick Incubator - Institute London
Nikon Inverted Microscope Incubation Systems Ti-2, Ti-E Single and Double Layer
The Nikon Ti-2 microscope is availiable alongside the Ti-E microscope which is also available as a single or double layer microscope. Digital Pixel Incubation are available for both of these systems.
We have also designed systems for use with the Ti-E when combined with either the Nikon A1 Confocal, or Yokogawa Spinning Disk systems from Visitron, Andor or Perkin Elmer.
Supported Microscopes:
Nikon Ti-2
Nikon Ti-E with one (1L) or two optical layers (2L)
Nikon Ti-E with Nikon A1 Confocal Systema
Nikon Ti-E with Andor Yokogawa Scanning Head
Nikon Ti-E - University of Birmingham
Incubation System and Heater Thermal Specifications:
Temperature Range Ambient +1

o

C to 42

o

C
Temperature Stability ± 0.3

o

C
Temperature Homogeneity ± 0.3

o

C across the XY axis of a motorised stage system.
All measurements depend on the precise microscope and incubation system configuration, but are typical.