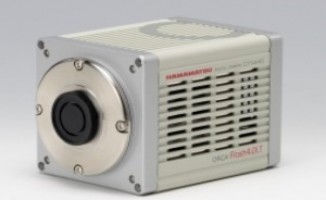 ---
Special sites
PC recommendations
With the introduction of the ORCA-Flash4.0, users are now able to stream 4 megapixel images to their computers 100 frames per second. The computer recommendations for this high data rate can be met by using the guidelines listed this PC Recommendations for ORCA-Flash4.0.
Specifications
Type number

C11440-42U30

Imaging device

Scientific CMOS image sensor

Effective no. of pixels

2048 (H)×2048 (V)

Cell size

6.5 μm×6.5 μm

Effective area

13.312 mm×13.312 mm

Full well capacity

30 000 electrons

Readout speed

30 frames/s

Readout noise
1.5 electrons (rms)
0.9 electrons (median)
Cooling temperature
+10 ℃ (Passive-air cooled, Ambient temperature: +25 °C)
Dark current
0.6 electrons/pixel/s (typ.) (Air cooled, Cooling temperature: +10 °C)
Dynamic range
33 000:1 (typ.)
Sub-array
Yes
Binning
2×2, 4×4
External trigger input
Edge, Level, Synchronous readout, Start trigger
Global reset (Edge/Level)
W-View mode with different exposure time (Edge/Start)
Trigger output
Global exposure output, Trigger ready output
Output Signal Ports (3)
Continuous High/Low output
Multi-channel sync
Interface
USB 3.0
A/D converter
16 bit
Lens mount
C-mount
* Read noise is reported as both median (med) and root mean square (rms). The rms calculation of read noise is typically higher but provides the more meaningful value for signal to noise calculations and predicting image quality.
Spectral response
Dimensions