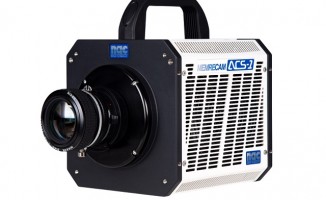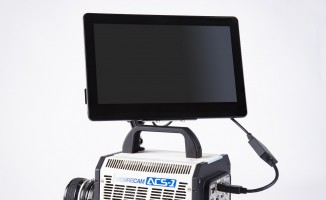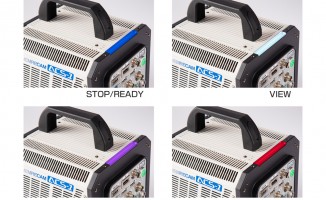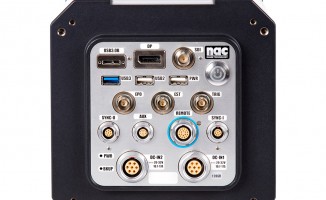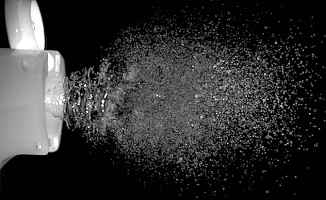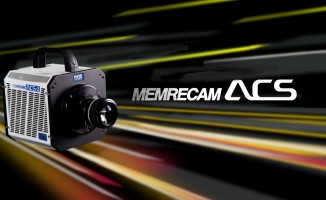 MEMRECAM ACS-1 M60/ M40 高速相機(高速攝影機)
High Speed / High Resolution
1280 X 800 (1M Pixel) 40,000fps
864 X 640 50,000fps
800 X 528 60,000fps
Long Recording Time / Faster Data Transfer
64GB / 128GB / 256GB
Faster Data Transfer to Optional SSD
High Sensitivity / High Quality
ISO 50,000
Superior High Dynamic Range
User Selectable Bit Depth
Compact
Dimension: 175W X 175H X 206D mm
Weight: Approx. 7.3kg
---
---
| | |
| --- | --- |
| Sensor | Proprietary CMOS Global Shutter 28.16mm x 19.71mm all Active pixels |
| Active Pixel | 1280 x 896 |
| ISO (REI) | 50,000 |
| Memory | 64GB / 128GB / 256GB |
| Bit Depth | 8bit / 10bit / 12bit |
| Lens Mount | F-Mount (Support to Iris ring - less Lens) / C-Mount 1 |
| Video Output | DisplayPort / HDMI / 3G-SDI |
| Input Signal | Trigger (TTL/Contact) / EST / IRIG-B |
| Output Signal | Status (Arm/Fault) / Exp. Pulse / Trigger Out / VD OUT |
| Control | PC or V-Pad 1 (11.6" Touch Panel Monitor) |
| Power | 20-32VDC |
| Dimensions (mm) | 175W x 175H x 206D |
| Weight | Approx. 7.3kg |
Sample Recording Times
【ACS-1】
FPS
Pixel
Recording Time in sec.
H
V
64GB
128GB
256GB
40,000
1280
800
1.59
3.19
6.38
45,000
1280
720
1.57
3.15
6.30
50,000
864
640
2.12
4.25
8.51
60,000
800
528
2.14
4.29
8.60
75,000
720
400
2.26
4.53
9.08
100,000
640
288
3.54
7.09
14.19
200,000
1280
112
2.27
4.55
9.12


Features
High Speed and High Resolution
The ACS-1 M60 offers full frame, 1280 x 896 resolution up to 54,000fps, 1280 x 800 resolution at 60,000fps and 1280 x 448 resolution at 100,000fps in normal mode. Frame rates up to 1 million fps are available with reduced resolutions. At an incredible 60 Gigapixels per second, the ACS-1 M60 offers frame rate and resolution combinations that are far superior to any other high-speed cameras in its class.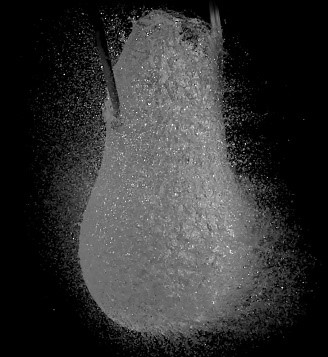 Boost Mode/Boost4 Mode
Boost Mode *1 combines nac's unique sensor technology with a proprietary signal processing method to increase frame rate and resolution with little or no image degradation. This is a powerful tool for any application requiring higher frame rates and larger resolutions.
*1 Boost Mode is currently available on monochrome models only.
Boost up Frame Rates
@1280 x 896 pixels (M60)
Normal Mode: 50,000fps -> Boost Mode: 100,000fps -> Boost4 Mode: 150,000fps
Boost up Resolutions
@150,000fps (M60)
Normal Mode: 1280x288 pixels -> Boost Mode: 1280x544 pixels -> Boost4 Mode: 1280x896 pixels

Boost Mode Example: Both images taken at same frame rate (Left: Normal Mode, Right: Boost Mode)
High Light Sensitivity ISO 100,000
All ACS series cameras are equipped with state-of-the-art CMOS sensors featuring extremely high light sensitivity (monochrome ISO 100,000). Even in low light environments, the ACS produces bright, dynamic, and crisp images, making the ACS-1 M60 an ideal tool for high magnification and microscope applications – no need for bright lights on heat sensitive subjects.
| | |
| --- | --- |
| Conventional Model | ACS-1 |
Image Trigger
The Image Trigger is a unique function that automatically triggers the camera by detecting a small brightness change in a user defined Area of Interest (AOI) within the live image. This allows users to trigger the ACS camera by detecting changes in the image due to motion or variations in light intensity where a traditional trigger signal may not be available. With most image based triggers, brightness changes in the entire field of view is required to detect an event. With the ACS, users can define an image trigger AOI as small as 21x16 pixels within the entire image. This allows for much more accurate image triggering to capture elusive events where even the smallest image change can be detected and captured.

Large Memory Capacity and Memory Segmentation
The ACS-1 can accommodate up to 256GB of onboard DRAM, allowing for longer recording times compared to most traditional high-speed cameras. In addition, an optional one terabyte (1TB) built-in SSD storage drive is available, allowing high-speed transfer of image data directly from camera memory to mass storage media. The ACS also features Memory Segmentation which allows users to divide the available memory into several shorter segments, enabling repeated recordings to be made in quick succession without the delay of downloading images to a PC. Once all the memory segments are recorded, the user can select which segments to download.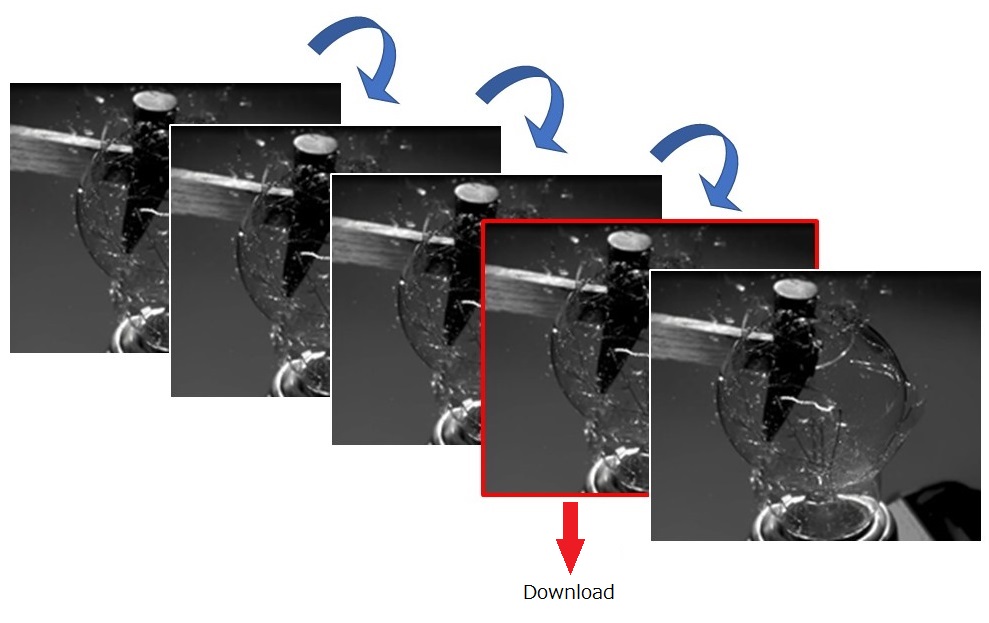 Easy Synchronization of Multiple Cameras
With both SYNC-IN and SYNC-OUT connectors on its rear panel, the ACS offers incredibly simple and accurate camera synchronization. ACS cameras can be synchronized to each other using a single sync cable. No trigger distribution boxes or external sync devices are required.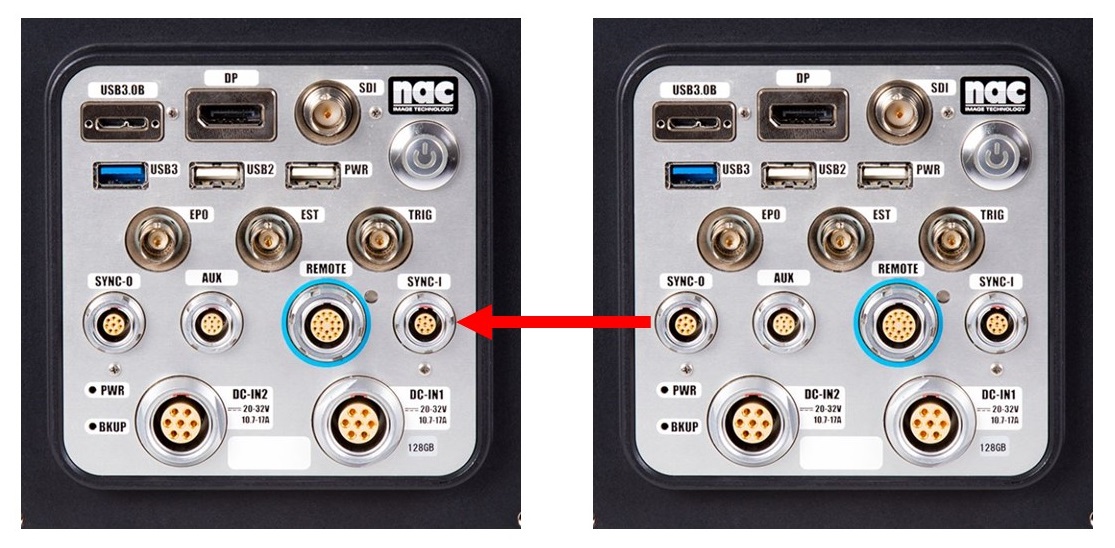 Super-Fast download speed with USB3.0B
Using a USB3.0 Micro-B connection, the ACS offers super-fast image download over an industry standard interface. With download speeds in excess of 325MB/second *2 , large image sequences can be downloaded in a matter of seconds. Using the ACS's DOWNLOAD REC function, the user can continue recording images while transferring previously recorded data to PC or SSD in the background, creating a much more efficient workflow. Images can be downloaded directly to any attached USB3.0 (or USB2.0) external device with no PC necessary *3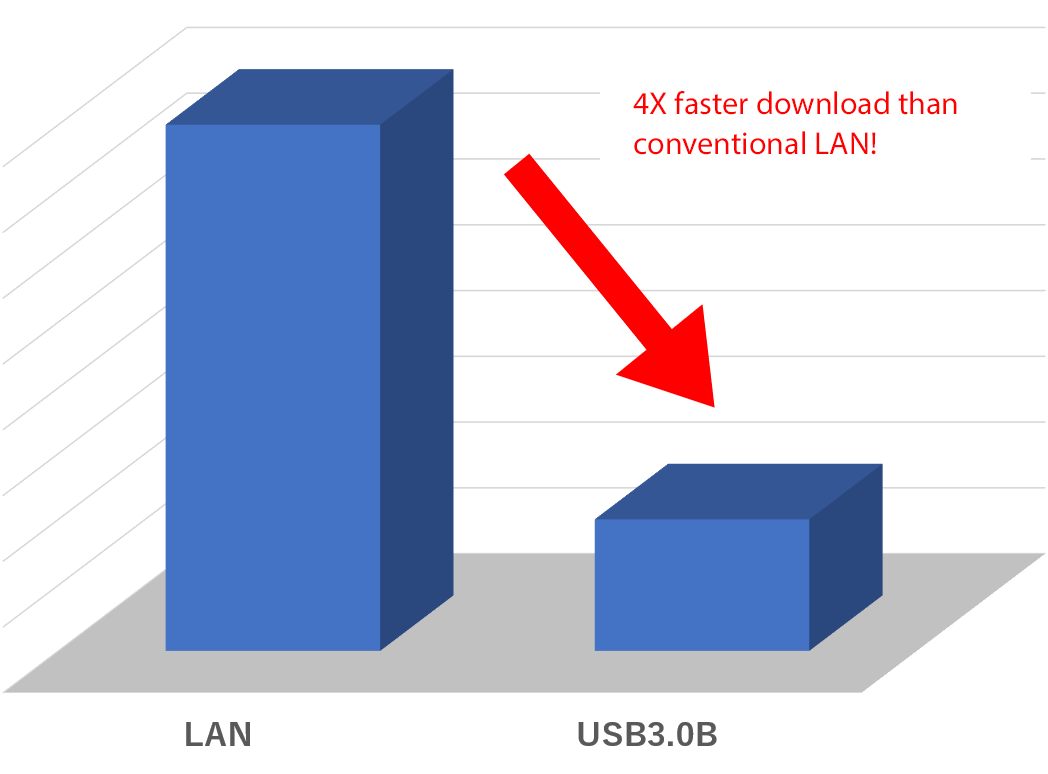 *2: Download rates are dependent on PC performance.
*3: An optional V-PAD is required to transfer the data without PC.
V-PAD Touchscreen Monitor for ACS series
No PC, no problem! The ACS series V-PAD offers a beautiful HD viewfinder with full touchscreen camera control. Whether you are out in the field or in a restricted area where PC control is not practical, the V-PAD allows for full control of the ACS camera – from setup, to capture, to review, to saving – all with an intuitive touch screen interface.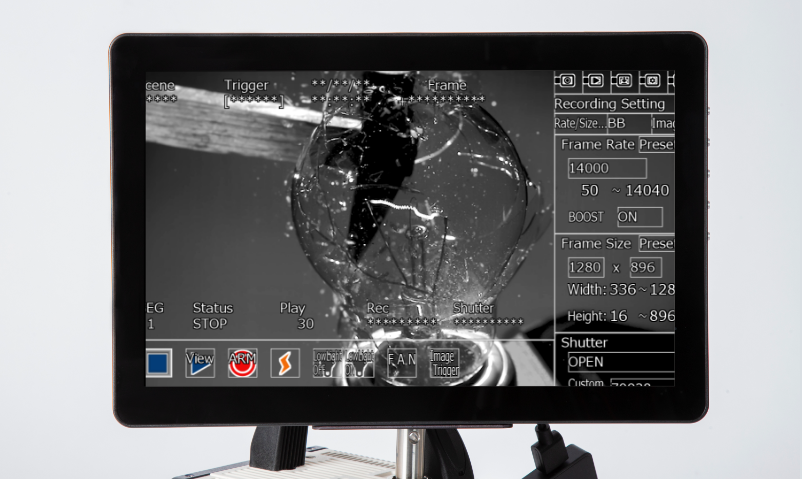 Comparison Table of nac High-Speed Cameras

| 說明 | 檔案大小 | 下載 |
| --- | --- | --- |
| MEMRECAM ACS-1 M60/M40高速相機 型錄 | 123KB | |
| THE FUTURE HAS ARRIVED WITH THE NAC MEMRECAM ACS | 123KB | |