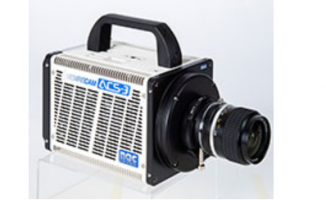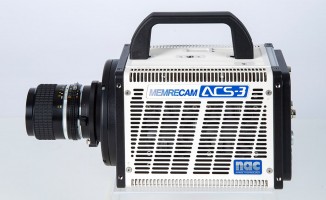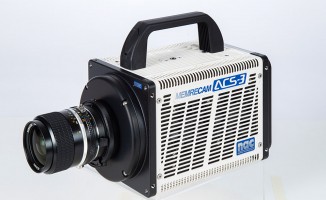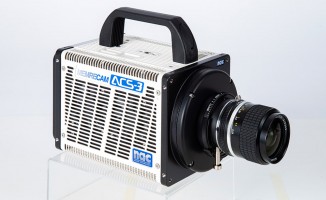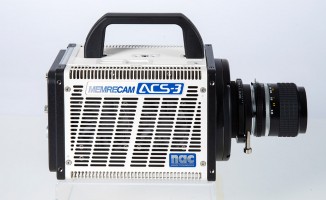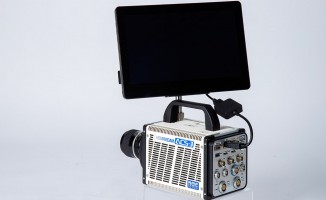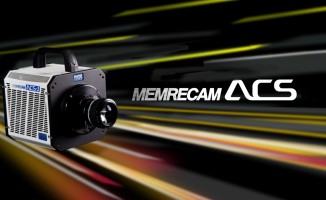 MEMRECAM ACS-3 M16 高速相機(高速攝影機)
High Speed / High Resolution
1280 X 896 (1M Pixel)
Megapixel resolution at 30,000fps
Faster Data Transfer
Fast Data Transfer USB3.0B
Fast Data Transfer to Optional SSD
High Sensitivity / High Quality
ISO 50,000 (Mono)
User Selectable Bit Depth
Compact
Dimension: 128W x 128H x 206D mm
Weight: Approx. 4.5kg
---
---
Specifications
Sensor
1.14M Pixel, CMOS
Active Pixel
1,280 x 896
ISO (REI)
ISO 50,000 (Mono)
Electric Shutter
1/100~1/1,666,666 sec.
Memory
16GB / 32GB / 64GB
Memory Segment
Up to 64 Segments
Bit Depth
8bit / 10bit / 12bit
Lens Mount
F Mount (Support to Iris ring-less Lens)
C Mount*1, EF Mount *1
Video Output
DisplayPort / 3G-SDI (Level A)
Input Signal
Trigger (TTL/Contact) / EST / IRIG-B
Output Signal
Status (ARM/FAULT) / Exp. Pulse (EPO) / Trigger OUT / VD OUT
Trigger Mode
NORMAL / EVENT BURST / MULTI / LINEAR
Interface
1000BASE-T / USB3.0B / USB3.0 / USB2.0
Control
PC
V-PAD*1 (11.6" Touch Screen Monitor)
Power
20-32VDC
Dimensions
Approx. 128W x 128H x 206D mm (without protuberance)
Weight
Approx. 4.5 kg

Sample Recording Times
【ACS-3】
FPS
Quality Mode
Speed Mode
H
V
Sec.
H
V
Sec.
50~14,000
1280
896
---
1280
896
---
15,000
1280
800
1.42
1280
896
2.53
17,000
1280
720
1.39
1280
896
2.24
20,000
1280
608
1.40
1280
896
1.90
25,000
1280
480
1.42
1280
896
1.52
30,000
1280
384
1.48
1280
800
1.42
40,000
1280
272
1.57
1280
576
1.48
50,000
1280
224
1.52
1280
448
1.52
65,000
1280
160
1.64
1280
320
1.64
80,000
1280
128
1.66
1280
256
1.66
100,000
1280
80
2.13
1280
192
1.77
150,000
1280
48
2.37
1280
96
2.37
180,000
1280
32
2.96
1280
64
2.96
350,000
1280
16
3.04
1280
32
3.04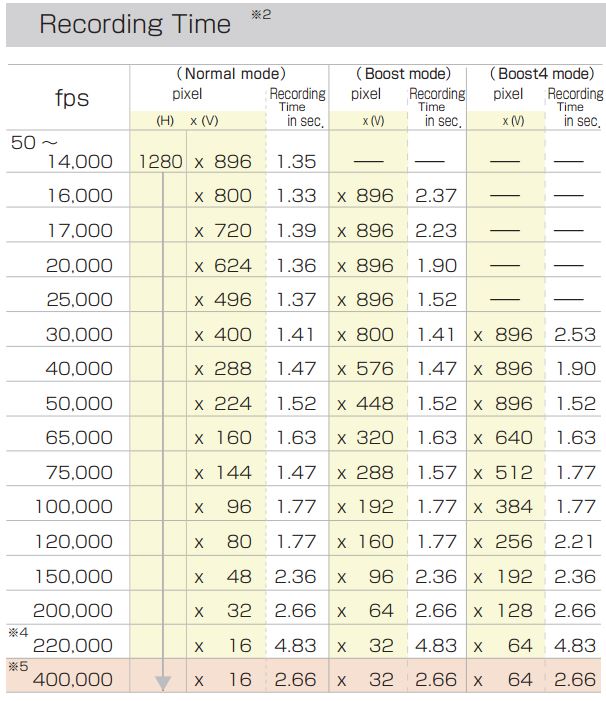 Features
Boost Mode/Boost4 Mode
Boost Mode*1 combines nac's unique sensor technology with a proprietary signal processing method to increase frame rate and resolution with little or no image degradation. This is a powerful tool for any application requiring higher frame rates and larger resolutions.
Boost up Frame Rate
@1280 x 800 pixels
Normal Mode: 14,000 fps -> Boost Mode: 25,000 fps -> Boost4 Mode: 50,000 fps
Boost up Resolutions
@50,000 fps
Normal Mode: 1280x224 pixels -> Boost Mode: 1280x448 pixels -> Boost4 Mode: 1280x896 pixels
*1 Boost Mode is currently available on monochrome models only.

High Light Sensitivity ISO 100,000
All ACS series cameras are equipped with state-of-the-art CMOS sensors featuring extremely high light sensitivity (monochrome ISO 100,000). Even in low light environments, the ACS produces bright, dynamic, and crisp images, making the ACS-3 M16 an ideal tool for high magnification and microscope applications – no need for bright lights on heat sensitive subjects.
| | |
| --- | --- |
| | |
| MEMRECAM ACS-3 | MEMRECAM HX-3 |
PC-less Operation
No PC, no problem! The ACS series V-PAD offers a beautiful HD viewfinder with full touchscreen camera control. Whether you are out in the field or in a restricted area where PC control is not practical, the V-PAD allows for full control of the ACS camera – from setup, to capture, to review, to saving – all with an intuitive touch screen interface.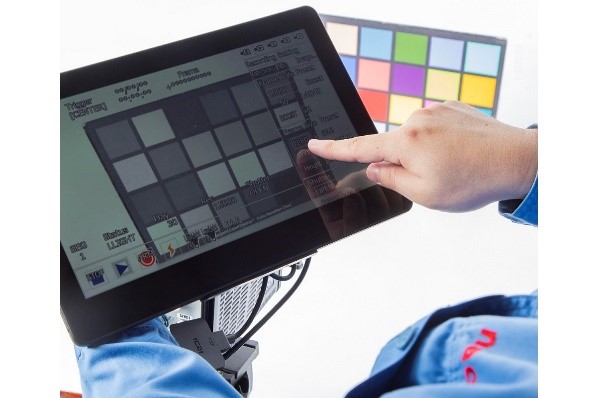 Compact Standalone System
The ACS-3 provides many of the same features and benefits of its high-performing predecessor, the ACS-1, but in a smaller, lighter form factor. Compared to prior nac models like the MEMRECAM HX-3, the ACS-3 is a full 40% smaller and 30% lighter. The ACS-3 is a mobile and reliable system for almost any high-speed camera application.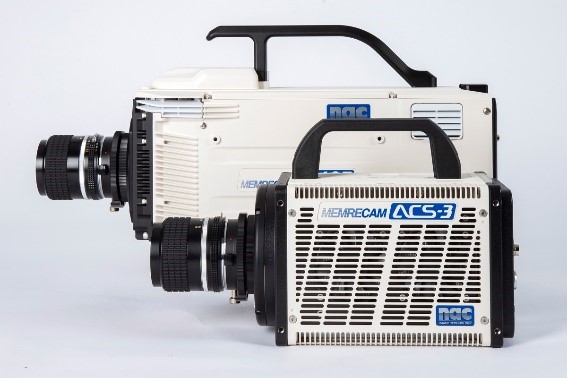 Easy Synchronization of Multiple Cameras
With both SYNC-IN and SYNC-OUT connectors on its rear panel, the ACS offers incredibly simple and accurate camera synchronization. ACS cameras can be synchronized to each other using a single sync cable. No trigger distribution boxes or external sync devices are required.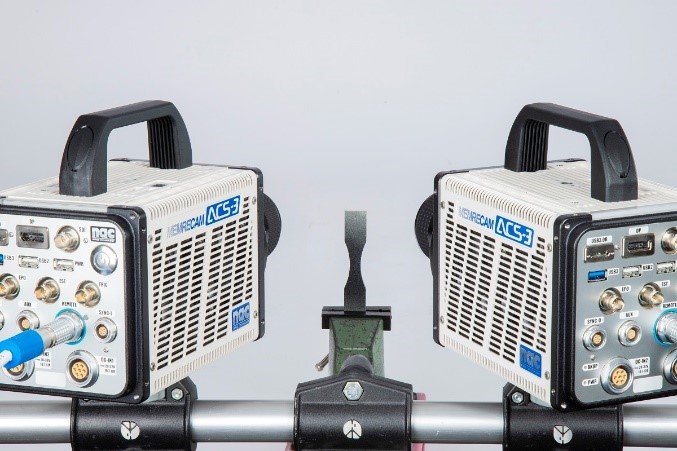 Comparison Table of nac High-Speed Cameras